United Airlines Jaguar Partnership Offer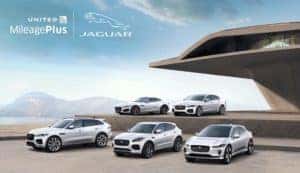 We are pleased to announce the United Airlines Jaguar Partnership offer. The purpose of Jaguar's partnership with United Airlines is to bring awareness to the Jaguar brand among United Airlines MileagePlus elite frequent flier members. Select United Airlines customers received an email, pictured below, that explains the details of the program.
Customers will have the ability to generate a unique program code to receive a 50k MileagePlus bonus when leasing or purchasing a new Jaguar vehicle during the program period.
JAGUAR & UNITED AIRLINES OFFER DETAILS
If clients purchase or lease a new Jaguar with Jaguar North Dade they can receive 50,000 bonus miles with United Mileage Plus.
Exclusively for our MileagePlus® members, Jaguar is pleased to extend a limited-time private offer when you purchase or lease a new Jaguar vehicle.
WORKING FOR A SUSTAINABLE FUTURE
Jaguar's Mission to have an all-electric lineup by 2025 aligns with our commitment to reducing our emissions, so that we can continue to appreciate the wonders of this world, today and into the future.