Jaguar F-Pace SVR Edition 1988 Miami FL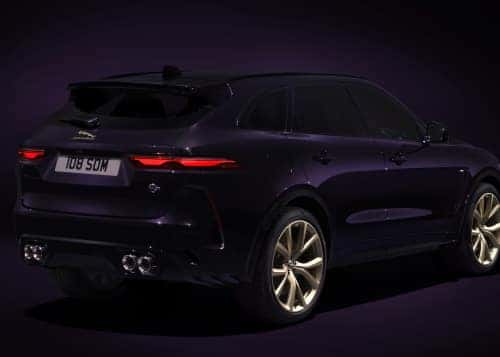 Jaguar F-Pace SVR Edition 1988
New Jaguar Models for sale near me
For the first time, the Jaguar F-Pace is being given a limited edition, and trust us when we say, it's not one you'll want to miss out on. While the F-Pace is always going to be the pinnacle of performance and style, we can't help but fall in love with what the designers at Jaguar have done with the introduction of the SVR Edition 1988, which brings you unique personalization, and a kind of style that is impossible for the competition to even try to replicate. Today we want to bring you more information on this limited edition, what it will be able to offer you, and how both the future and history of Jaguar have informed the design process of this edition. Continue reading down below for more on this spectacular vehicle, and what it can offer you!
What are some of the basics of Edition 1988?
While there are many different places we could start when introducing you to this special model, we really just want to give you a brief overview on some of the history that has come into play, and how that has informed the design. A big part of this edition is Jaguar wanting to showcase their rich racing heritage, and so, that's a part of the emotive specification that this vehicle brings with it. Even the name itself is a tribute to the World Sports-Prototype Championship-winning XJR-9, which happened in 1988. Only 394 of these models are offered worldwide, and you'll be able to find them with specially-formulated Midnight Amethyst Gloss paintwork, Sunset Gold Satin exterior and interior detailing, a special SV Bespoke commissioning graphic, and Champagne Gold Satin 22-inch forged alloy wheels.
What are some of the other design elements of this limited edition?
We know that we've mentioned a few of the design aspects of this vehicle already, but we want to give you a more in-depth sort of look about what you'll be getting should you decide to order one of these limited editions. Every edition comes with a Sunset Gold Satin Jaguar leaper, along with a laser-etched Edition 1988 logo on each front wing panel. You'll also find SVR Black Pack components throughout, such as Gloss Black finishes on the brake calipers, door mirrors caps, and even the wheel center caps. Luxury is the name of the game here, and you'll find it thanks to open-pore carbon fiber finishes, semi-aniline Ebony leather upholstery, and Sunset Gold Satin detailing on the heated and cooled front seats, steering wheel spokes, and gear shift panels.
What powers the Edition 1988?
Now that you know more about the design, it's time to look at what is underneath the hood. This edition comes with a 5.0-liter V8 supercharged engine, which can output as much as 550 horsepower, and even go from 0 to 60 mph in just 3.8 seconds. You can even get to a top speed of 178 mph. Expect to find a comprehensive package that offers you more enhancements to the performance of this vehicle, which makes it even better for the everyday driving experience. Let's just say, power is no problem for the Edition 1988.
Jaguar F-Pace Inventory at Jaguar North Dade
As you can already see by now, the Edition 1988 really does come with unique design features that make this the kind of limited edition model you won't want to sleep on. When you choose Jaguar North Dade, you get a dealership that will always take your needs into consideration, and help you to the best of our ability. Stop by today and let us find you the vehicle that best suits your needs!