JAGUAR E-PACE WINS JD POWER AWARD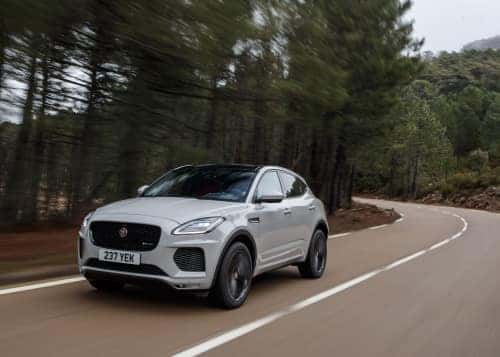 Jaguar E-PACE Wins JD Power Award
BROUGHT TO YOU BY JAGUAR NORTH DADE
Another year, another award. It should be no surprise that Jaguar is creating the best SUVs on the market today, and the award from JD Power as the top Consumer Rated SUV is nothing to shrug at. These awards are based off of hundreds of thousands of independent and unbiased opinions from verified car owners. That means that these awards are being given by average people, and combined to figure out which vehicle people are loving the most, and why. That makes this award a huge deal, and really shows why Jaguar is able to keep succeeding year after year. People love them, and we'll be discussing some of the specifics to this award, along with what makes this E-PACE so successful. Keep reading down below!
HOW ARE THESE SUVS RATED?
There are four major categories that are being discussed there. They include Quality & Reliability, Driving Experience, Resale, and Dealership Experience. The Jaguar E-PACE scored Great in three of the categories, and Best in Driving Experience. This shows that no matter which category is being looked at, the E-PACE isn't letting anyone down. In terms of Driving Experience, it's incredibly telling that when it comes to performance, safety, functionality, and technology, that they rate this Jaguar so high. However, we also want to note how important it is to receive a Great score for Quality & Reliability. This means that these are vehicles you can rely on to have fewer problems than the competition. All-in-all, people are loving the Jaguar E-PACE, and it can plainly be seen why.
While we want to focus on the award, we also think it's important to show off the features and engines that are getting people so excited. There is one standard engine with the E-PACE, which works with two different configurations. The base configuration is a turbocharged 2.0-liter 4-cylinder, which can produce 246 horsepower and around 269 pound-feet of torque. When you get a higher trim, that very same engine starts to generate 295 pound-feet of torque and up to 296 horsepower. All-wheel drive is standard, as is a nine-speed automatic transmission.
WHAT ARE SOME OF THE STANDARD FEATURES?
With how highly rated the E-PACE was with Driving Experience, it's no surprise that you want to find out some of the top available features. Some of the major standard equipment offerings include leather seating, LED headlights, push-button start, heated power mirrors, rain-sensing wipers, Apple CarPlay, Android Auto, rear parking aids, lane-keep assist, and driver monitor. Some of the available features include head-up display, a heated windshield, 14-way memory front seats, adaptive cruise control, high-speed emergency braking, a navigation system, and blind-spot assist.
JAGUAR E-PACE AT JAGUAR NORTH DADE
These SUVs were made for everyone. Whether you're worried about poor weather conditions, or you just want an SUV that is comfortable and luxurious, this Jaguar can truly do it all. We hope you'll stop by our dealership, check out our inventory, and see what all of the hype is about!
MAKE AN INQUIRY